Miami is a county in the US Ohio State. The county has a population of 102,506 people, based on the 2010 census. Troy city serves as Miami's county seat. Adjacent counties to Miami include Darke County in the west, Montgomery County in the South, Clark County in the Southeast, Champaign County in the northeast and Shelby County in the north.
Geography
The overall area of Miami County is put at 410 sq mi by the Census Bureau in the United States. About 98.2 percent of the area is covered by land while the remaining 0.8 percent is covered by water.
Attractions
There are a number of attractions in Miami County. Miami County has a total of 12 towns as well as 14 cities and villages. All of these towns, cities and villages have a number of tourist attractions, which could be classified under sightseeing, barn quilts, points of interest, museums, recreation, and entertainment. There are also several other attractions that are located very close to the County. All of these make the County a good tourist sites and a location many residents of the United States desire to live in. Some of the points of interest include Old Mason Winery, Allison's Custom Jewelry, Bear's Mill, Kitchenaid Experience, Historic Old Tippecanoe, Tippecanoe Farmers Market, Local 9 Park, Piqua Public Library and Idle Hour Ranch amongst others.
Locations in Miami County in the US Register of Historic Places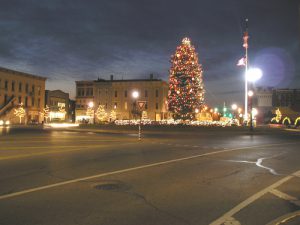 There are 45 locations in Miami County that has been added to US register of historic places. Some of such locations include Troy Public Square, Staley Farm in Bethel Township, York Rial House in Springcreek Township, Plainview Farm in Elizabeth Township as well as McKinley School in West Milton.
Education
Getting a school for your kids in Miami County is very easy and affordable. All cities in the county have several elementary schools. Furthermore, there is always a minimum of 1 High School in the county. There are also a number of colleges and universities within the county, such that getting education for your kids will not be a problem at all.
Shopping
Miami County is reputable for the opportunity it gives to individuals to engage in shopping. There are many things to shop for including sporting goods, specialty foods, hobbies and toys, health and beauty products, books and gifts, arts and crafts, antiques and collectibles as well as accessories and apparels. These can be shopped for in Shopping malls scattered all around the town as well as in homes and gardens.
Government of Miami County
Miami County is ruled by a number of elected officials. Some of the officials that are elected in the county include County Treasurer, Sheriff, County Recorder, County Engineer, County Coroner, Clerk of Courts, County Auditor s well as Board of Commissioners.
Miami County is a very lovely county where Troy City is located. The county is very hospitable, with a lot of things to do and places to visit in the area. A lot of tourist has thus, been attracted to the city.